Cyrel® Round Equipment for High-Quality Flexo Sleeves
Cyrel® Round equipment for flexo sleeve making has helped create a revolution in packaging graphics, giving printers and printer converters the benefits of flexo printing with the precision and reliability of gravure.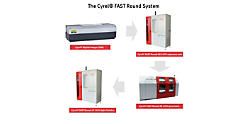 Easy-to-use Cyrel® Round equipment, when used with the family of ready-to-image Cyrel® Round flexo sleeves, provides a complete digital sleeve production solution.
Available for dry thermal or solvent workflows, Cyrel® Round equipment delivers a continuous print flexo sleeve that is optimized for precision printing and improved productivity.
Cyrel® FAST Round Equipment

The Cyrel® FAST Round System is the only flexo sleeve-making system that uses dry thermal technology to process high-quality photopolymer sleeves, thus eliminating all solvents and aqueous solutions from the plate room.
With Cyrel® FAST Round equipment, four seamless photopolymer sleeves can be produced in less than one hour.