Cyrel® FAST DFUV High Durometer Digital Plate
DuPont™ Cyrel® DFUV is thermal process plate for printing with UV inks, designed to come up to color quickly and print smooth, dense solids without compromising dot gain, highlights and resolution. The DFUV plate is ideal for narrow web, tag and label printers.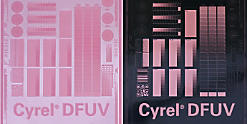 Applications
Tag & Label - pressure sensitive labels, self-adhesive labels, shrink wrap labels, wrap around labels, etc.