Cyrel® FAST DFR High Durometer Digital Plate
DuPont™ Cyrel® DFR is the high durometer plate for the DuPont FAST thermal platemaking process, designed to meet the needs of high quality flexo with finest halftone, linework and solids. DFR is very robust on press and provides an exceptional balance between high image resolution and wide tonal range.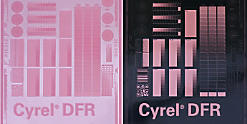 Cyrel® DFR is fully compatible with the Cyrel® DigiFlow workflow when a flat top dot structure is preferred. Cyrel® DigiFlow is designed to optimize the benefits of solid screening programs such as Esko HD Flexo and Pixel+, resulting in higher solid ink density, smoother ink laydown and an overall improvement in print contrast.