Cyrel® FAST EASY Technology
Designed to Deliver Higher Quality and Higher Productivity


BEIJING, China, 8th May, 2017 - DuPont Advanced Printing (DuPont) will highlight several of its newest offerings for advancing flexography and delivering higher quality and higher productivity during the China Print tradeshow May 9-13 in Beijing. China. The newest additions to the DuPont™ Cyrel® flexographic plate portfolio will be on display in hall E3/025.
At the stand, DuPont will showcase its complete Cyrel® EASY platform and its ability to serve all package printing segments. At China Print, DuPont is highlighting the newest additions to the portfolio --Cyrel® EASY ESM and EFM , the built-in flat top dot digital plates developed especially for the paper printing application. Cyrel® EASY ESM and EFM are for use in solvent and the Cyrel® FAST thermal processing respectively. These new products have been designed to achieve the highest quality image reproduction on various paper substrates with a single plate offering, simplifying operations in both the plate room and press room. Since its introduction in 2015, Cyrel® EASY technology has proven its ability to deliver higher ink transfer, excellent fade-to-zero highlights, as well as improved productivity for both tradeshops and converters globally, especially in flexible packaging and the tag and label segment.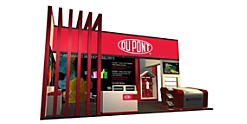 "Customer testing of our new EASY plates for paper applications has demonstrated excellent results: improved solid ink density and reduced mottling, as well as printing durability. Tradeshops will also benefit from a simplified workflow and exceptional exposure latitude," said Si Ming Luo, regional marketing manager – Asia Pacific, DuPont Advanced Printing. "DuPont has continued to develop next-generation DuPont™ Cyrel® plates to achieve consistent print quality through both solvent and FAST/thermal workflows. These efforts have resulted in revolutionary improvements to the plate polymer and platemaking workflow."
Additional technologies featured at the show will include:
The DuPont™ Cyrel® FAST 2000TD, it features several cutting-edge tools and technologies that contribute to higher plate quality, easier workflow, and improved machine serviceability. FAST 2000TD is the next-generation technology to DuPont's existing FAST processor portfolio. 

DuPont™ Artistri® digital inks deliver brighter colors, shorter production cycles and higher production throughput for direct-to-garment (DTG) and roll-to-roll (RTR) printing.
DuPont Advanced Printing brings together leading technologies and products for the printing and package printing industries. DuPont™ Cyrel® is one of the world's leading flexographic plate-making systems in digital and conventional formats, including the new Cyrel® EASY photopolymer plates and Cyrel® FAST plates and processing equipment. DuPont™ Artistri® offers high-quality inks for consumer, commercial, office inkjet and textile printing applications. For more information, visit:  http://cyrel.com/ap or  http://artistri.dupont.com.
DuPont – one of the first companies to publicly establish environmental goals more than 25 years ago – has broadened its sustainability commitments beyond internal footprint reduction to include market-driven targets for both revenue and research and development investment. The goals are tied directly to business growth, specifically to the development of safer and environmentally improved new products for key global markets.
DuPont (NYSE: DD) has been bringing world-class science and engineering to the global marketplace in the form of innovative products, materials, and services since 1802. The company believes that by collaborating with customers, governments, NGOs, and thought leaders we can help find solutions to such global challenges as providing enough healthy food for people everywhere, decreasing dependence on fossil fuels, and protecting life and the environment. For additional information about DuPont and its commitment to inclusive innovation, please visit  http://www.dupont.com.