Cyrel® Round Flexo Sleeves for Precision and Productivity
Cyrel® Round flexo sleeves outperform other continuous print forms. Ideally suited for jobs with seamless backgrounds, tightly nested images or critical register, they are available for Cyrel® solvent or Cyrel® FAST thermal workflows.
Cyrel® Round flexo sleeves also provide an effective alternative to mounted flat plates for demanding tight register jobs and those brought back to press for successive print runs.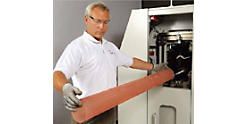 Ideal for Variety of Substrates

Cyrel® Round flexo sleeves perform well with flexible packaging and folding carton substrates, as well as rougher materials such as tissue and wallpaper.
Benefits of Cyrel® FAST Round Flexo Sleeves

Cyrel® FAST Round flexo sleeves are lightweight, easy-to-handle print forms with a seamless design. These thermal flexo sleeves enable:
Quick changeover on press

High press speeds

Capability to print difficult-to-register, high-quality designs
Benefits of Cyrel® Solvent Round Flexo Sleeves
Cyrel® Solvent Round flexo sleeves are photopolymer sleeves that enable:
High-quality printing on rougher substrates

Ideal balance between low dot gain and solid ink coverage